Redraw of this.

I don't know which i like better.  What do you think?
For the day crowd~
Redraw of this.

I don't know which i like better.  What do you think?
Another redraw that I'm gonna be finishing~
Doing these redraws is making me feel better about my artwork. :U
Tinysol and lesbians?  I am on a roll here.
I'm almost done with the sprite sketches.  I have about 120 sprites planned for the demo alone.
Audio Person Needed
Hey!  it's been a while and as we draw closer and closer to putting out the demo, I think it's about time I put up a post saying we are looking for anyone interested in producing, helping, or even just consulting us about audio.  So if any of the following appeals to you:

Consulting somewhat clueless people about how to effectively use audio
Remix existing music
Produce some music yourself
Or anything else you can think of being more knowledgeable about audio, it would genuinely help us

Then please, shoot an e-mail to youarekarkatvantas@gmail.com

If anything, we would appreciate someone who will stick with us through the demo process, but we would be absolutely greatful fi you'd stick with us for whatever comes afterwards.

-Becca
So hey, this is a thing that's still happening and is just a few more sketches away from being a fully playable rough draft of the entire demo~ I'd appreciate it being boosted if anything~
Troll Headcanon Again~
So I've seen some freckle headcanons and junk now and then.
What if on Alternia, since going out in the sun means pretty much dying or being hideously disfigured/burned, perhaps having freckles is kind of like having the mysterious facial scar as a shorthand for badassery?
Even though some trolls are born with freckles, they largely imply exposure to the sun.  Kanaya, being able to go out in the sun, would probably have some.  And I imagine with the way sunlight is diffused through the ocean, seadwellers are more likely than landwellers to get them.
So whenever they need to create characters for a film and are all like "Hmm, how can we show they're a badass?" just slap some freckles across their cheeks and you're good.  Like bad ass face scars.
Reread Headcanons: Jade Raised by Prospitians
So I've been rereading Homestuck and have amassed quite a few new headcanons and theories in the process.  Of course, I only thought it natural to text post them as I continue.
So here we go (some pictures are links).
Reread Headcanon Post #1: Jade Was Raised by Prospitians
So we all know that grandpa Harley died early in Jade's life.  We also know that before he died, she had already woken up on Prospit (the reason he built her a robot was the sleepwalking she did while dreaming).  But what was the extent of her relationship with the Prospitians?
Well for one, Jade was a tiny little thing when her grandpa died.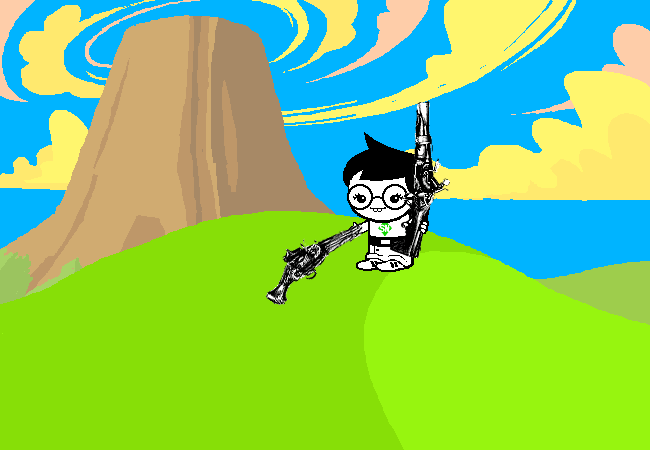 And was even tinier when she was awake on prospit, possibly since birth.
Troll Headcanon~
Mostly about pigmentation disorders.
Vriska and Aradia have one that makes their eyelashes, lips, and nails grow in their blood color.  It might even lead to their eyes filling in their blood color prematurely.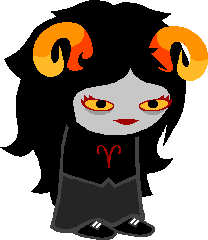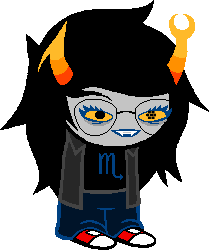 There are also other conditions that can happen because of some weird pigmentation going on.  Such as hair growing in two different colors naturally.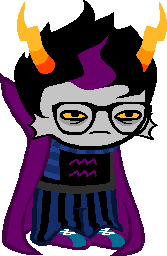 As seen in Eridan (it makes me think of Doc Hammer of Venture Bros whose hair naturally grows in two different colors).
So it makes me wonder what other pigmentation problems can a troll run into?  The entirety of their body, horns, eyes, skin, etc showing up vividly in their blood color?  Their blood color not being visible at all?  Hair streaks?  Like more than just a blood color mutation, what kind of different ways can it present itself on the exterior?
I think there's a lot of different directions it can be taken in and I've found the idea interesting for a while.
~*Opinions*~
Alright so I'm tired as shit and just want to make a few bullet points on my feelings on all these updates and Terezi and blah blah blah.
*********These are opinions.  They do not invalidate yours.  WHAT A CONCEPT*********
Terezi's horror after Gamzee was freed from mind control was guilt.  Pretty much the entire conflict of her character is not knowing if she did the right thing and if the difficult decisions she made that took the life of her friends was right or not.  She killed Vriska via stabbing and knew it was "right" and it fit into the alpha timeline and she knew that, but she still felt guilty about it and missed her.
Therefore, after stabbing someone who comes back sounding confused and scared and like an old friend, someone who felt her stabbing, that really will play on the guilt and probably self hate she's always had building.
Terezi was able to sniff out that something wasn't right and there was some mind control afoot.  It seems to have been a lot of tension of the downward spiral of a relationship and all of her self loathing projected on Gamzee which leads to…
All of us will probably project onto these characters and apply our own experiences to them.  Some of us are more emotionally invested than others.  But please realize that doesn't make someone inherently wrong if you are projecting more painful experiences than others.  be mad on your own behalf, not Terezi's.
Terezi has been emotionally and psychologically manipulated.  She's spent time as a "master" manipulator herself, so to realize that this happened probably fueled her self hatred and her anger, all of which seemed to come out via stabbing
Gamzee is a douche.  He is a villain.  He is a horrible person.  He also felt the stabbings and, like in hivebent, seems to be having a highblood rage.  He is dangerous and he is violent.  This is why…
He still needed Karkat as a moirail.  This moment seems to parallel when Karkat made the choice not to engage Gamzee in combat and shoosh him.  Karkat will probably turn to killing him.  If he can.  I think most of us hope he can.  Also…
This was why they sorely needed an auspistice that wasn't SLOSHED OUT OF HER FUCKING SKULL.  Kanaya saw it.  Rose saw it.  Anyone who knew about the kismesitude saw it which is why…
I find this point to be the only way it's comparable to the Tavros/Vriska incident in which Kanaya made next to no effort to reign in Vriska as a moirail or mediate as an auspistice.  I think that…
A kismesitude, if the participants can't seem to maintain the relationship in a healthy way (in b4 "KISMESITUDE IS INHERENTLY UNHEALTHY!!!"), seems to be HIGHLY dependent on the conciliatory quadrants.  It's a really interesting dynamic.  Also…
In my mind, there was a physical aspect of Terezi and Gamzee's relationship.  A physical, fighting relationship.  I feel like terezi's "you can't bare to raise a hand to me now of all times?" comment has been taken a LOT of ways.  It can be taken as an implication of a physically abusive relationship or how I take it as…
A sign that they had a very heated very physical kismesitude.  I feel that they were in such a relationship where they were constantly pushing each other in a rivalry.  She's used to probably having some intense fights, probably as some foreplay.  She's stabbing Gamzee in the freakin torso and she's expecting him to react.  She isn't drubbing, she isn't fighting as a form of foreplay or to fuel a rivalry, she was stabbing him with intent to kill and when someone can't even muster the fucks to react, there is something WRONG.  She's used to a willing participant, she's used to fighting Gamzee, this is a dude she was in a relationship with, a kismesitude being the classic "I need you need me" kind of push and pulla nd constant entanglement to drive each other to keep trying and to outdo each other.  Gamzee stopped participating and reacting (perhaps due to mind control) and Terezi took all the hate she had for him and directed it inwards towards herself and her failings as a person and letting herself having any weaknesses to be exploited.
Gamzee laying the beat down on Terezi in the recent set of upsets upped the ante tenfold.  I don't think it's at all a reflection on how he and Terezi fought.  It's a reflection on what pure unbridled rage does to a troll.  It's excessive and brutal and SCARY.  It's probably a raw look at what trolls have become on Alternia or what a rage player can be.
Terezi is going to die.  Gamzee has to die.  If all this going around about Sollux's prophecy is a thing I can't remember right now, they both have to die.  They're the only ones who haven't yet.  The even more horrifying thing to consider, as far as Gamzee being a villain, he's a minor inconvenience when compared to Lord English, to the end boss.
In conclusion: Gamzee is terrifying and a villain, Terezi has heavy guilt and self hate issues (somehow related to her justice and law obsession), Rose could have done a better job but has her own demons to sort out, maybe this timeline is alpha, maybe it's doomed, maybe John will pop in and change it.  Kismesitudes are more likely to be mutually beneficial when functioning correctly than the beat down and stabbings we've seen.
We'll have to see what happens next, now won't we?  Say whatever you want in an ask or in response, I don't care/will not reply.  I wanted to vent my opinions because they're as valid as anyone else's and figured someone will find them interesting.
Again, i feel I should remind: These are opinions.  I have them and you have them and amazingly they don't cancel each other out.  Whoa.  So tired.  I'm sleeping now.